Special Saturdays
---
Do you have other committments during the week, and would love to paint with me?
Do you live a bit too far away to join the weekly group and want a longer block of time?
Would you like to paint with a focus on a theme where I'll guide you?
Would your painting life be enriched by exploring an aspect of our process with a group of engaged artists?
There is a genius in you – something you that one time first said "I want to learn to paint."  This is connected to something deeper than acquiring paint-handling skills.  I've never been more clear or more certain that I'm here to create the environment and provide the support and encouragement for you to love what you love, paint what you love, live what you love.
Join us for Saturdays to paint together in Larkspur in 2017. Beginning in February this year, I'm offering a series called "Paint what you Love."  We'll take the day to explore the painting subjects that call to me over and over "paint me."  There's no better way to become intimate with something – it's shapes and structures – than to paint it. Throughout the year we'll explore the overall concepts of composition, contrast (light and dark), freedom with color, and capturing light.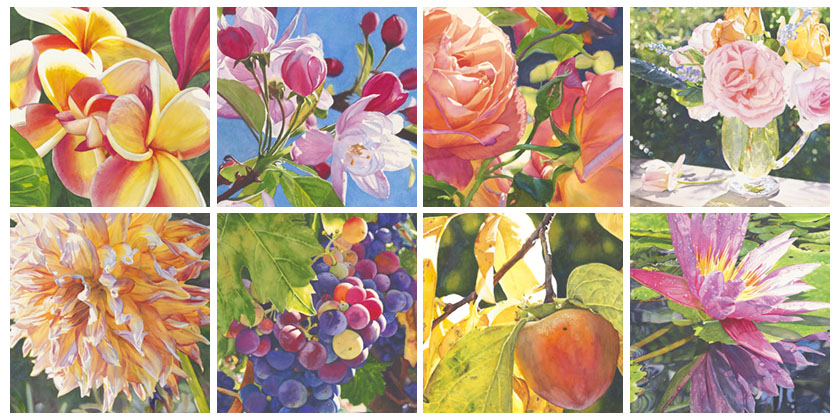 There are no specific image assignments – we won't all be painting the same image. I want you to paint what you are inspired to paint. I will contact you ahead of time to remind you to have/find something to paint that will have you learn what you are hoping to – according to the theme of that month's class.
And I believe that learning watercolor technique is most effective when you are working on something that you want to be painting, I offer you instruction, in the moment, as challenges arise in your painting process.
As such, the themes are totally optional. If you'd like to join in and either are not interested in the theme or are underway on another painting you want help with, and/or you just want the joy and nourishment of painting with a group of wonderful artists in our beautiful space in Larkspur, I invite you to join in.
2017 Themes and Dates
Saturday, January 28, 2017 – Painting the Light
It's hard to believe that what appears as bright, shining light is simply white paper – but it is!   I have insights about what it takes to transmit the sense of light to show you. I'll also share something I've just noticed about a painting that I did a few years ago – when looking at it in low light – it's like magic. I can't even explain it!
Saturday, March 4, 2017
Paint what you Love – Tropical Plumeria Flowers
Beginning our "paint what you love series" and fresh back from a trip to Kauai, we'll dive into the porcelain perfection of the five petalled plumeria.  There are many shapes and colors, but all share a similar structure.  I can't take enough pictures of them, so if you want to look through my collection of reference images, you are welcome to.
Saturday, March 18, 2017
Paint what you Love – Springtime fruit tree blossoms 
The magic of light as it goes through an apple, cherry or plum tree in full springtime bloom makes my heart expand in my chest.  They are delicate and fleeting and must be enjoyed while they are here.  Capturing them in a painting is a great way to have them year round. The require a light touch and soft painting techniques.  They are the perfect way to practice painting  "luminous petals."
Saturday, April 22, 2017  
Paint What You Love – Roses – the most beloved of flowers
I've not painted any other subject more than roses.  Possibly the world's most beloved flower, it may be the most painted by anyone.  Because of this we'll pay particular attention to what makes a compelling rose painting.  Having your perspective, composition and light/dark contribute to the interest of the painting keeps the painting alive.
Saturday, June 3, 2017 – POSTPONED – DATE TBD
 Paint what you Love – Floral Still Life – the duo of glass and flowers
The combination of flowers, glass and light is hard to beat.  It's where I go when I'm "playing" with compositions to paint.  We'll have vases and flowers to play with to see what we can come up with right then and there. You will have the option to draw and paint, or bring something else ready to go – to paint the rest of the day.  Pray we have a sunny day!
Saturday, August 19, 2017
 Paint what you Love – Summer Dahlias with all their color and aliveness
I've not painted enough of these often intensely colored summer flowers. I always love best those with the twisty, curvy petals, but they grow in so many shapes, sizes and colors, there's something for everyone.  Painting dahlias is part finding your way through all the petals, and part creating of the distinct sense of 3D space that they occupy.
Saturday, September 16, 2017  
Paint what you Love – Grapes – the most beloved of fruits
If roses are the most heralded flower, grapes have to be this in the fruit world.  Rich with history and symbolism, we love our grapes. They are fun to paint, too.  I say each one is its own painting.  The leaves offer their own challenges – I can help you find your way through them too.
Saturday, November 4, 2017 – NEW DATE
Paint what you Love – Jewels on trees – fruit, branches, leaves
Of all the fruit paintings I've done, the vast majority are those still on the trees.  Nature creates really interesting compositions that include their leaves and branches – which I particularly like to paint.  Whether you want to paint the stone fruit of summer:  peaches, apricots, plums or cherries, or a fall favorite:  persimmons, citrus, apples or pears… fruit in its natural-setting fruit can provide the inspiration for beautiful paintings
Saturday, November 18, 2017 – NEW DATE  
Paint what you Love – Waterlilies – the magic of water and flowers
It can be a magical combination – water and flowers.  There are reflections, stems below and above the waterline, the edges of the leaves on the water – maybe waterdrops too – so many details to tune into!  I cannot pass by a pond growing flowers and not attempt to capture it.  This Saturday is an opportunity to dive into making a lovely and serene painting.
Schedule:
All days  are from 9:45 (so we can start at 10:00) – 4:00
Held in a lovely space in downtown Larkspur, CA surrounded by my art. – Limited to 10 students.
Sign up! Online
Cost:  $105/Saturday  
To reserve your spot, please PAY ONLINE 
or mail a check to:  
Cara Brown, 537 Magnolia Ave, Larkspur, CA  94939.
Please indicate the class or classes you are paying for on your check or in the "notes to seller" online.
Send me an email or call if you are interested or have more questions. I can provide a suggested supplies list if needed and/or wanted.
Cancellation policy:
If you are unable to come to the class and let me know within two weeks, you can apply the fee to a future class or I can refund you $90. If you cancel within 2 weeks and I have someone who can take your place, you can apply your fee to a future class. If I cannot fill your spot, the fee is not refunded. Thank you so much.