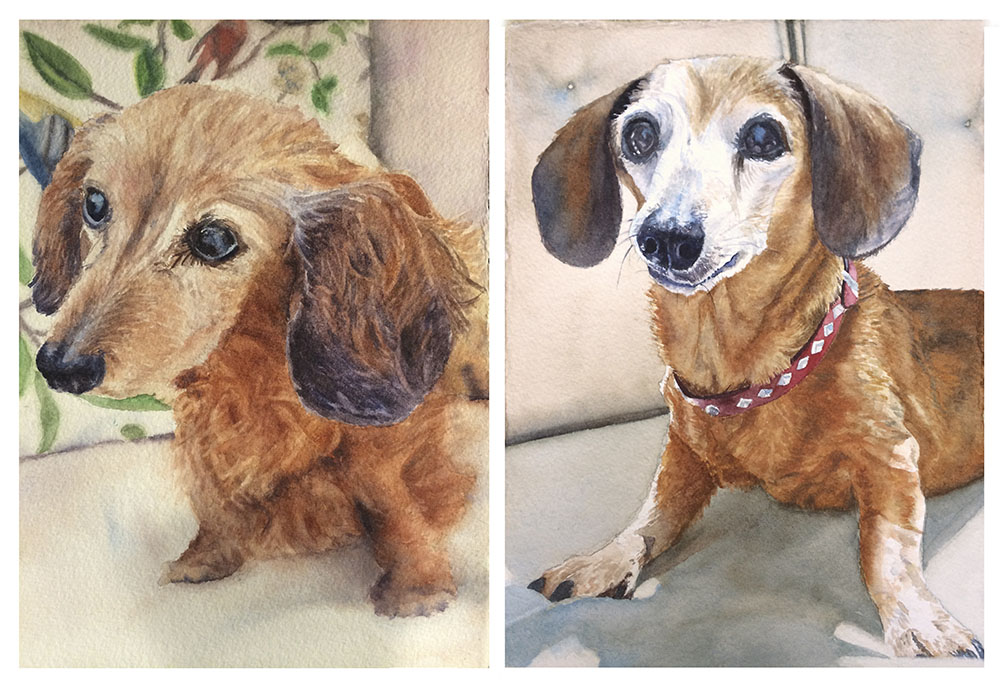 Ginger and Snoopy
---
Ginger and Snoopy were the beloved pet-kids of my good friends Pamela and Gerry. Pamela has been one of the biggest supporters and fans of the artwork coming through me. Part of this was asking me to paint their dachsies for Gerry - and for both of them to rememeber Snoopy and Ginger since they've gone. They now have Ziggy and Fritz terroizing the lower elevations of their house, but Snoopy and Ginger are still there in spirit... and in their portraits.

Ginger and Snoopy
Pet Commissions, Pets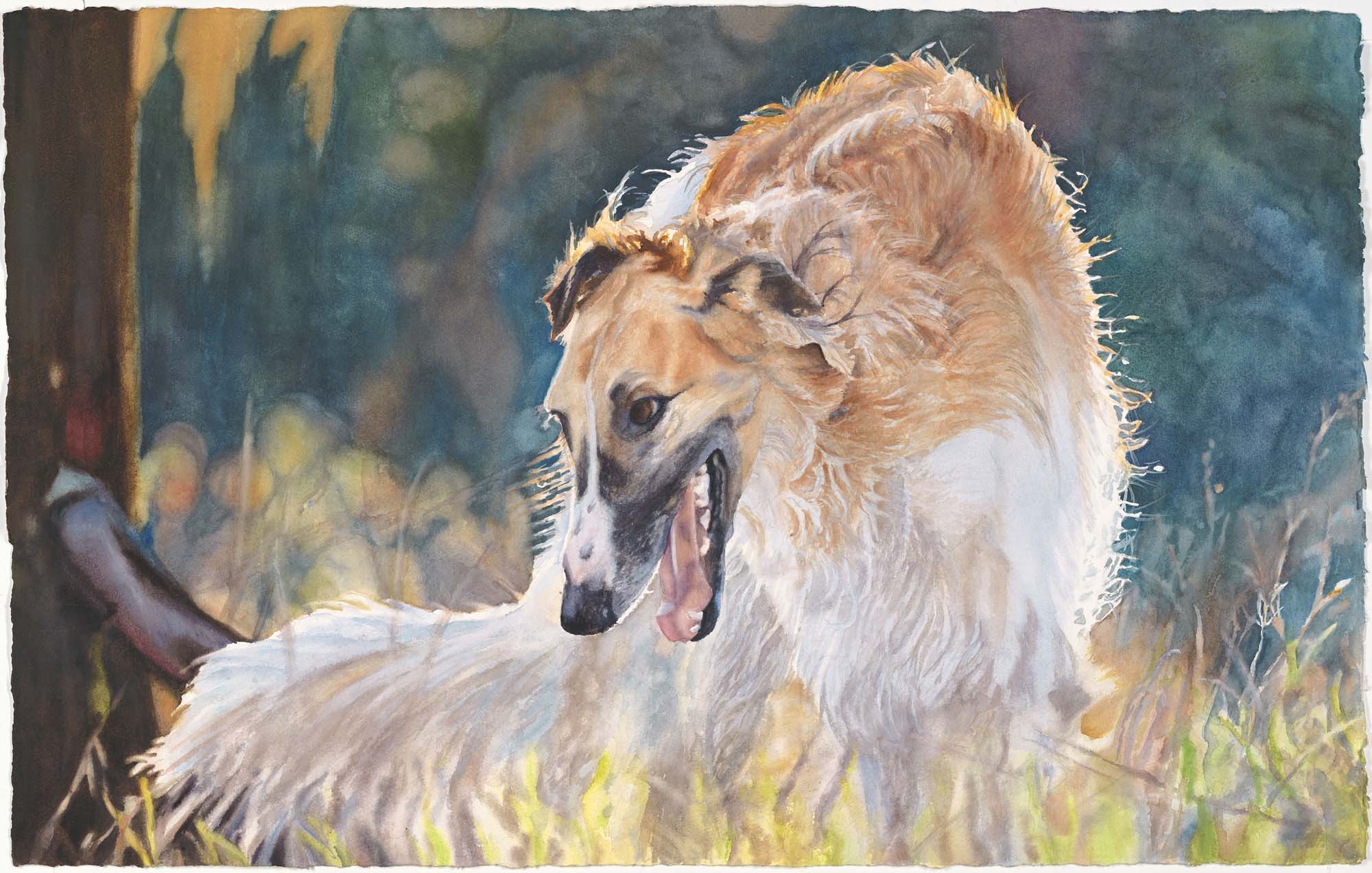 Icarus
---
Icarus is a stately Borzoi (Russian wolfhound) who lives with his mom Beverley and canine siblings. I met his mom at the Healdsburg art festival one September. We made a lovely connection which deepened when she had the thought that I might paint Icarus' portrait. I went up to make his acquaintance that November - he is quite impressive. I'm not familiar with this type of dog, so it was a remarkable experience. He stands three feet tall at his withers. His sibs are not quite as big - but the three of them bounding about is something else! He's sweet and mischievous and like no other dog I've ever met. Beverley and her three and Bo and I had a nice time at the dog park near her place in Sonoma County. I took some photos of him, but none of them held a candle to the one that Beverley had of him. Taken by Julie Vader, a talented photographer-friend of Beverley's, it's a beautiful image.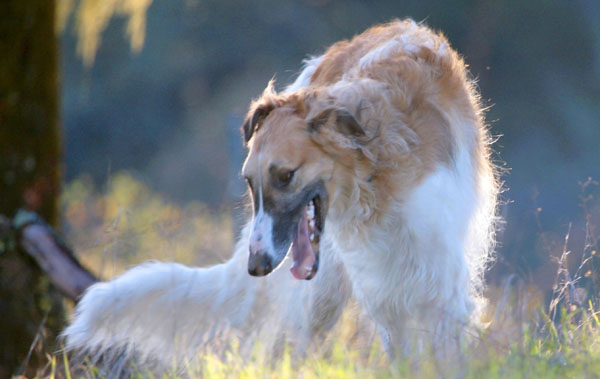 I didn't change a thing about the composition for the painting. I had fun monkeying with the colors in Photoshop and then making them come more alive than were in the original photo (of course!). It was tricky to paint his curling fur that was in shadow of the back-lighting. And I had to get my literal mind out of the way when painting the lower part, the grasses, his fur, his legs and tail and the light. Bo and I made two more visits to show her the painting all done and then deliver the framed piece. It's now hung in its home and everyone is happy. It's nothing but joy to translate the essence of beloved pets with pigment. I feel privileged to be able to do so.
Icarus
Pet Commissions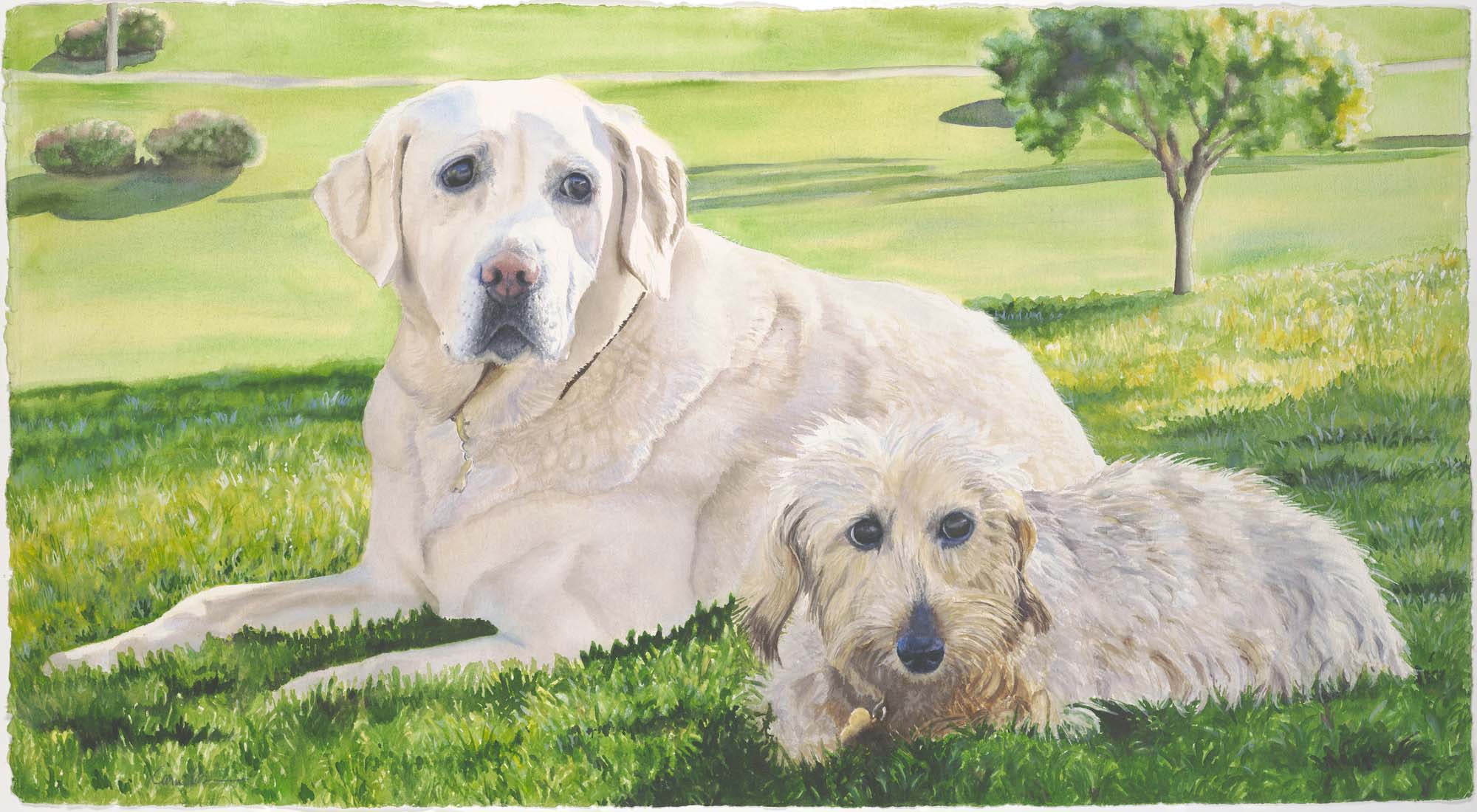 Bessie and Golda
---
I met Louise through her friend Ann, who saw my art in the Bank of Marin - we just never know how the connections are going to happen. She came to my house with Ann to take a look at the rest of my work and saw the painting I'd done of Bud the Dog. She also has a lab - Bessie, as well as a wired-hair dachshund, Golda - and thought of a photo she had of them that she wanted me to paint. Here's the photo as it was taken: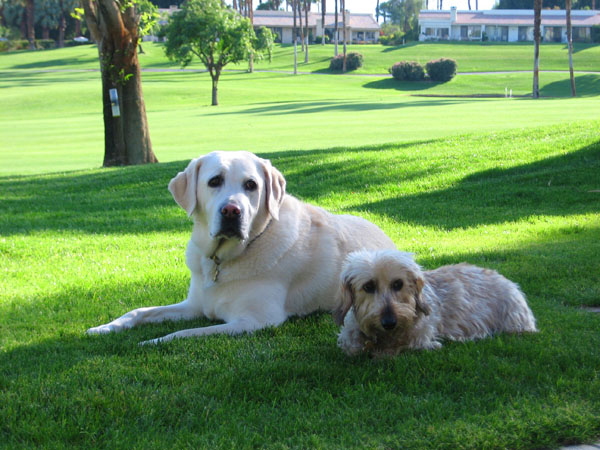 I thought the large trunk was too dominant a feature and would distract from the dogs, so I started playing in Photoshop to make some improvements to the composition. I then needed to move the smaller tree to balance. I also thought that if it were cropped so there wasn't so much space above Bessie's head, it would focus in on the pups more - this also had the benefit of removing the buildings in the background. Here's where the re-arranging ended up: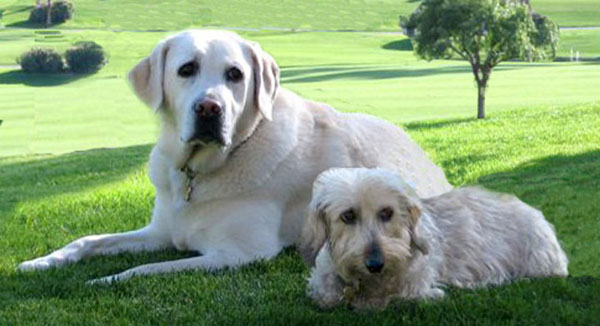 This was the first official commission I'd done, so it was a bit daunting taking it on. Painting beings for the humans who love them is a responsibility! I went to meet the two dogs and took more photos so that I could have information to fall back on if necessary. Louise wanted to make sure I captured Bessies "beauty mark" - a spot on her right side (left as you view) - so these other photos were helpful to place it correctly. Painting Golda was a challenge, my first wild-hairy subject. I just kept working it and it came together. I painted their eyes last. One evening my folks were over and the painting was propped up against the dining room wall. My mom said she felt like there was someone watching her! When I went to Louise's to reveal the finished painting for her approval, it was fun for me to hear the two of them barking behind the front door! She has it in a place of honor in her house. I've seen her several times since and she tells me all the time how much she loves this painting. I'm so happy to be able to do this for my dog-loving clients.

Bessie and Golda
Pet Commissions